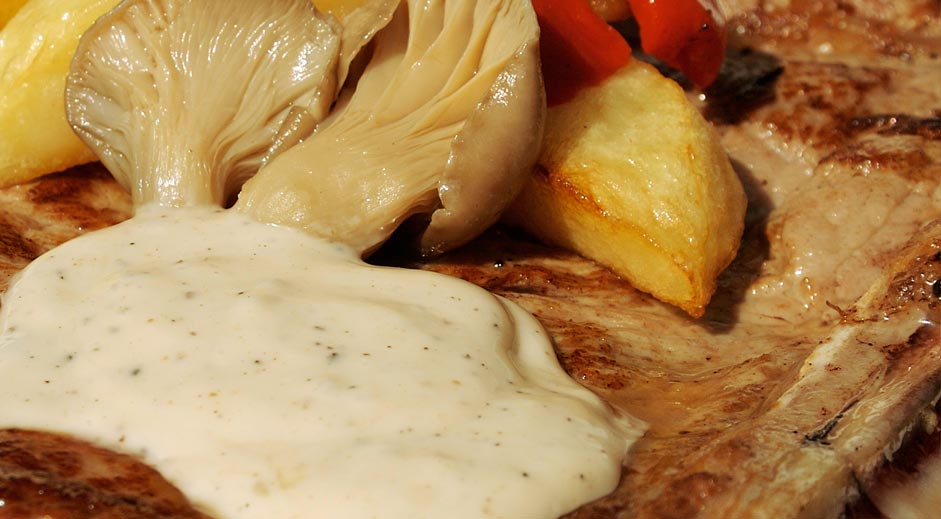 Pork chops with mushrooms with 5 spice sauce
Meats / 5 Pepper
INDREDIENTS FOR 4
4 pork chops
Extra virgin olive oil
Salt and black pepper
Half a tray of mushrooms (for example oyster mushrooms).
5 spice sauce
INSTRUCTIONS
Begin by heating the Salsas Asturianas 5 pepper dressing in a pot on a low heat (so it does not boil).
Preheat a pan or griddle on a high heat with a tablespoon of extra virgin olive oil.
Season the meat on both sides with salt and pepper to taste, and fry on both sides until golden brown.
In the same pan or griddle, add another tablespoon of extra virgin olive oil and sauté the mushrooms until browned. When ready, season with salt.
Quickly plate up the pork chops and mushrooms, adding a little dressing over the pork chop.
TRICKS AND TIPS
As a side dish serve chips, salad or battered onion rings. They all go perfectly with our sauce.
You can substitute the pork chops with any type of meat for fantastic results.
When pouring the sauce over the meat, consider using only half and serving the rest in a gravy boat or a small bowl. This way your guests may help themselves.
We recommend heating the sauce for this recipe but some prefer to serve it straight from the jar- it's to your taste.